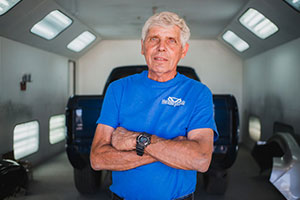 Vanderpool's Collision Specialists is a family oriented company with more than 40 years of experience in the auto body industry.
Our reputation has been built upon a foundation of quality craftsmanship and professionalism. We place a high commitment on providing each and every client with personalized service, ensuring that your car is handled promptly and returned to you in pre-accident condition.
As one of Tucson's premier auto body repair shops, we provide service to a diverse range of clientele. Setting the gold standard for honesty and integrity, our professional team works on every type of car from high end luxury automobiles to daily commuters.
From the small and simple to the large and complex, Vanderpool's Collision Specialists has the experience and the equipment to complete all projects in a cost effective manner. When disaster strikes your vehicle, it's important to know that a team with unparalleled work ethics is dedicated to helping you get back on the road safely and soundly.
Our clients satisfaction is of paramount importance.